I try to stay away from magazine racks at the grocery store but this Clean Cooking issue caught my eye. I flipped through it and saw at least two recipes I wanted to try right away! This one is Chickpea, tomato and cauliflower curry.
Don't faint, but the magazine was $12.99. That is ridiculous. I've stopped getting my nails done every week so I can indulge in cooking and decorating magazines.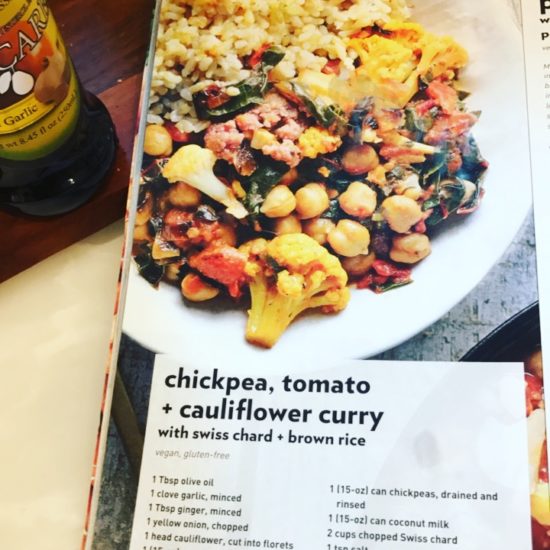 So here is the first recipe and guess what? Definitely worth the 12.99 right off the bat! Â I hope you enjoy this as much as we did. I hid the ziploc container so that I can have what is left over for lunch tomorrow.
Chickpea, tomato, cauliflower curry
with spinach and brown rice.
(This is adapted from the recipe in the magazine. They should be calling me to thank me.)
1 T. Olive oil
3 cloves garlic, pressed
1/2 T. ginger, minced
1 onion chopped
3/4 large head cauliflower cut into florets
About 15 ounces of diced tomatoes (Pomi in box is best)
2 T red curry paste (this is hot)
1- 15oz can chickpeas, drained, rinsed
1-15 oz can coconut milk
2 cups chopped baby spinach(original recipe calls for Swiss chard)
salt to taste
Cooked brown rice
Start cooking the brown rice– it will be ready by the time you finish the rest of the recipe!
In a large skillet over low medium heat, add oil ginger and onion, then press the garlic cloves. Keep all of that whirling and enjoy the aroma for about 3-5 minutes. Try not to let the garlic burn or it will taste bitter. Next, add cauliflower and stir for about 7 minutes or so until the florets look/feel slightly soft. Add tomatoes, coconut milk, chickpeas, curry paste and spinach. Â Add a dash of salt. Simmer on low heat for about 15 minutes. Stir occasionally. Serve this over brown rice.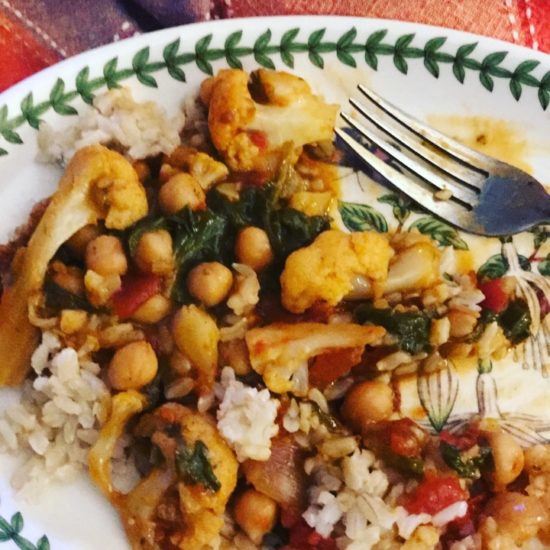 ML Adaptations to original recipe:
I had spinach and tons of it, so I used that instead of Swiss Chard.
I added a tablespoon of Green Curry Sauce because I had it and Robert really likes curry!
Not a fan of metal taste of canned tomatoes so I use Pomi tomatoes/sauce in a box. It's perfect.
They sell ginger pre-minced in the produce department at Publix.
Original recipe serves 4. Good luck with that!
We may have to sleep in separate rooms tonight!
Let me know if you try this and how you like it!