Cooking on a two burner electric unit  or a grill can be challenging after four and a half months! This is when you have to be creative and come up with simple but tasty menu ideas. Two recipes I've tried in the past week are definitely share worthy. Would love for you to share your favorite recipe in the Recipe Roundup below in the "reply" section.
The first is from James T. Farmer III's book  Dinner on the Grounds.  I brushed off the dust from the coffee table (renovation) and flipped through the pages hoping to find something that would satisfy my meat eaters including my brother, Clark, who was here last week visiting MIMI.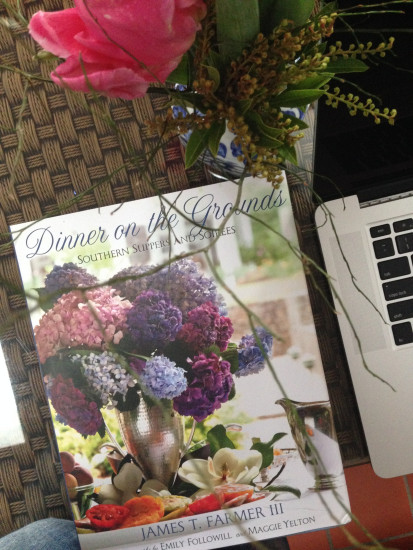 Pork Tenderloin with Teriyaki Apricot Sauce.
 I had two pork loin roasts in the freezer (buy one, get one from Publix) so I subbed that instead of the tenderloin the recipe calls for…
1 lb. pork tenderloin
olive oil          salt and pepper       Teriyaki apricot sauce  (below)
Pat the tenderloin dry with paper towels. Lightly baste the meat with olive oil,then rub with salt and pepper. Grill over medium heat for about 12 to 15 minutes, turning every 1 to 2 minutes, until thermometer shows temp of 145-150 degrees. ( I used pork loin roast so the cook time was about 10 minutes longer for me on each side). Remove meat from the grill and wrap in foil.  I have found this helpful with most meat I cook since it allows for "rest time" and a little more cook time without direct heat.
 Teriyaki Apricot Sauce
1 cup apricot preserves
1/2 cup teriyaki sauce
1/4 cup soy sauce
1 tsp  dark sesame oil
1 tsp minced fresh gingerroot ( I pressed)
1 tsp. minced garlic (again, I used the garlic press)
pinch of salt and pepper
3 drops liquid smoke ( I used only one)
Olive oil if needed to thin out the sauce.
Warm the preserves and vigorously whisk together all the ingredients except olive oil, which may b e used to thin the sauce if needed. Excellent with pork, chicken, fish and shrimp.
I served the pork roast with roasted zucchini and yellow squash rounds and roasted purple new potatoes. 
This recipe adapted and appreciated from James T. Farmer III,
Dinner on the Grounds: Southern Suppers and Soirees. 
The second recipe from Eating Bird Food is Thai Green Curry with Shrimp. Absolutely delicious. We love curry so the essence of coconut from the coconut milk and the curry spice flavor make this dish divine.  I did substitute a couple of the ingredients noted after the recipe.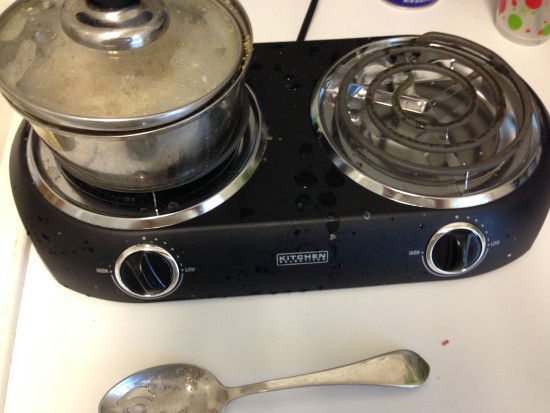 Here is proof that I really am cooking from this little burner.
I cook oatmeal(actually, lots of things) on this little baby from FREDS!
And here is the Thai Green Curry Shrimp dish…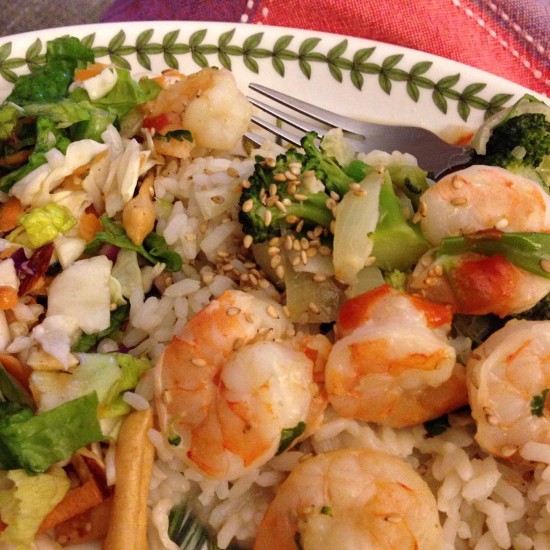 Thai Green Curry Shrimp
recipe adapted from EatBirdFood.com
1½ Tablespoons sesame oil
½ yellow onion, chopped
3 cloves garlic, minced
1 Tablespoon grated fresh ginger
2 Tablespoons Thai Green curry paste
1 13 oz. can of coconut milk
1 zucchini, chopped
1 cup shredded cabbage
juice of one lime
1 Tablespoon low-sodium tamari (or soy sauce)
¼ teaspoon cayenne pepper
1 lb. peeled and deveined shrimp
¼ cup fresh basil, chopped
¼ cup fresh cilantro, chopped
zucchini noodles or cooked rice for serving
¼ cup chopped green onion, for garnish
sriracha, for serving
Heat oil over medium-high heat in a large skillet. Add onion, garlic and ginger; sauté until fragrant, about 3-5 minutes. Add in curry paste; sauté 1 minute. Add coconut milk, zucchini, cabbage, lime juice, tamari and cayenne pepper to the skillet. Combine and turn up the heat to medium-high so the liquid starts to simmer. Cook for about 5 minutes.
Add shrimp to the pan and cook until shrimp are pink and cooked through, about 3-4 minutes. Add basil and cilantro to the pan and toss to combine. Remove skillet from the heat.
Serve curry over zucchini noodles (can be raw or quickly sautéed) or cooked rice. Garnish each plate with green onion, fresh cilantro and a little sriracha if you need more spice. Enjoy!
I made a couple of substitutions to Eating Bird Food's recipe by adding broccoli instead of zucchini,
and I made a pot of rice to sop up the delicious coconut -curry sauce.
Served this with a Dole Asian Salad from the grocery store. Add the package dressing to your liking.
Enjoy.

PS.Share your tastiest recipe from the week below in the "REPLY" section!!