December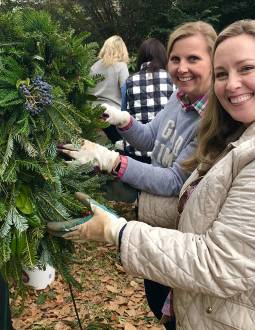 2020 WREATH WORKSHOP
Handmade with love by YOU!
Wreath Workshop is an Augusta area tradition. Hundreds of women have created these beautiful, fluffy and one of a kind beauties. 
Year after year, ladies return excited to get started. After your first experience, you'll be ready for the next workshop! 
This year we will practice social distancing and please plan to wear a mask. This is a 2 hour workshop and weather permitting, we are designing outside. Please dress comfortably, in layers and put on comfortable shoes. 
If you have questions, please text Mary Louise 706-836-2671.
Thursday, December 3, 2020
10 am – 12 noon  CLOSED
Friday, December 4, 2020
10 am – 12 noon CLOSED
Saturday, December 5, 2020
10 am – 12 noon   (CLOSED)
Saturday, December 5, 2020
2 pm – 4 pm CLOSED
Sunday, December 6, 2020
3pm – 5pm (PRIVATE PARTY)
Thursday, December 10, 2020
PRIVATE PARTY
Friday, December 11, 2020
10am -12pm (CLOSED)
Saturday, December 12, 2020
10am-12pm (1 SPOT AVAILABLE)
Sunday, December 13, 2020
2pm-4pm (CLOSED)