Robert watched the Barefoot Contessa make a similar salad then requested for Christmas dinner. The recipe makes a hearty salad perfect as a side or main dish for vegetarians!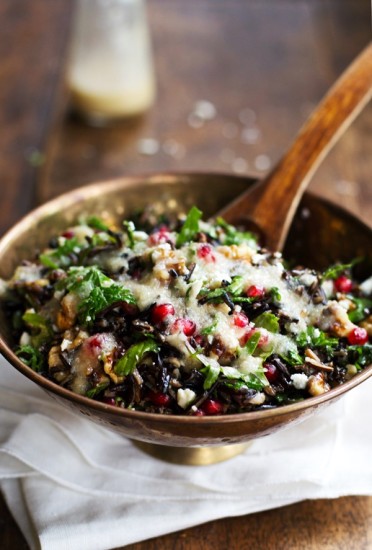 POMEGRANATE, KALE, AND WILD RICE SALAD WITH WALNUTS AND FETA
Author: Pinch of Yum photo from Pinch of Yum
Serves: 4, as a side
INGREDIENTS
For the salad
1 cup pomegranate seeds
2 cups chopped baby kale
2 cups cooked wild rice (you can use leftover rice or buy precooked)
¼ cup toasted walnuts
¼ cup feta cheese
For the dressing
½ cup minced onion or shallot
2 tablespoons olive oil
2 tablespoons water
2 tablespoons honey
½ tablespoon apple cider vinegar
½ teaspoon salt
1 squeeze lemon or orange juice
INSTRUCTIONS
Prep the salad ingredients (chop, rinse, toast, etc). Chill the ingredients in the fridge while you're making the dressing if you want a cold salad.
Mince the shallot or onion and saute in ½ tablespoons olive oil to reduce the bite. When soft and fragrant, remove from heat and transfer to a food processor. (If you want a stronger flavor for your dressing, skip the sauteing altogether. The shallot in particular works well for this.)
Pulse the onions or shallot with the remaining olive oil, water, honey, apple cider vinegar, salt, and orange juice until smooth and creamy. Taste and adjust. Add additional olive oil or water to keep the mixture moving through the food processor.
notes from Mother
I used a mixture of kale, baby spinach and Romaine lettuce since we had such a big crowd. Placing main ingredients in sections before you toss makes a nice presentation…all the feta cheese in one section, the seeds, the nuts, etc.
I used shallots instead of onion, and I did not sauté.
If no access to a food processor then just combine the salad ingredients well. I did not have one because it is packed up for kitchen renovation! The processing will create a creamier dressing. Taste the dressing after combining ingredients. Let sit, then taste again!
Buy the pomegranate seeds… Dirty work already done! I used Uncle Ben's Brown & Wild Rice. Will try straight wild rice next time.
Great salad, enjoy!