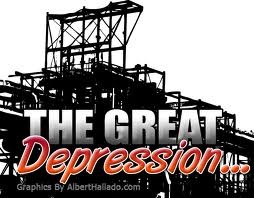 I mentioned this week my quest for Depression Era- easy and cheap menu ideas as our grocery bill is a bit out of hand! Several Facebook friends privately shared their memories of "depression meals".
This from Linda M., Augusta, GA. Thank you for sharing!

As I was prepping for tomorrow's dinner I thought about you and your quest for depression era menu ideas. My grandmother Kales, who lived through the depression, moved in with us when she was in her early 80's and I was 9 years old. I learned so much from her. She taught me how to cook and instilled in me kitchen frugality. One of the dishes she prepared for cold winter nights was a vegetable beef soup. Emphasis on the vegetables which we had grown, canned or frozen from the summer garden bounty. She would never throw any leftovers away, peas, green beans, corn, limas, spinach, cabbage you name it, she saved it. She would never use what she'd call "first vegetables" for soup. We'd figure out what "meat" we were going to use. Most of the times it was beef bones from Mr. Lam's butcher off Walton Way, and after we browned them then "soaked them" for stock we'd add the leftover vegetables from the freezer. I loved cooking like this and didn't realize it was out of necessity that we did this. At times, I find myself freezing leftover veggies for soup or stew. When I saw chuck roast on sale this summer I purchased several with soup making days in mind. My veggies come from the produce section not my freezer or garden, but I know that Grandma Kales is smiling down on me for all the love and effort it takes to make soup! I may not have recipes or menus from the depression era, but being raised by a depression era grandmother was by far the best teacher anyone one could ask for. I can't wait to see what recipes you find from the depression.