We originally planned to begin our kitchen renovation in June, but drawings, pricing and contractor delays have pushed us to this month– September!
I hope.
Word is we are to begin tear- out next Wednesday kicking off our second kitchen renovation in this home.  That means that I have to move everything we are using now to the upstairs so that the demolition team can rip out everything that is in the existing kitchen and our big den. The big den and kitchen will now become one large space since we are taking the wall between the rooms out!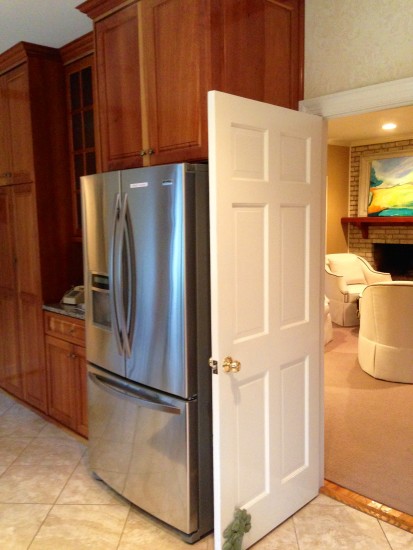 The wall here with the refrigerator is the wall that will be removed.
Also, the smaller part of the wall to the right of the door where you see Gizmo's water bowl.
The floor will be removed and red oak will continue into the new kitchen same as in the den where you see the white chairs.
The white chairs will be moved to the existing rarely used dining room, and a 60 inch round table  will take their place.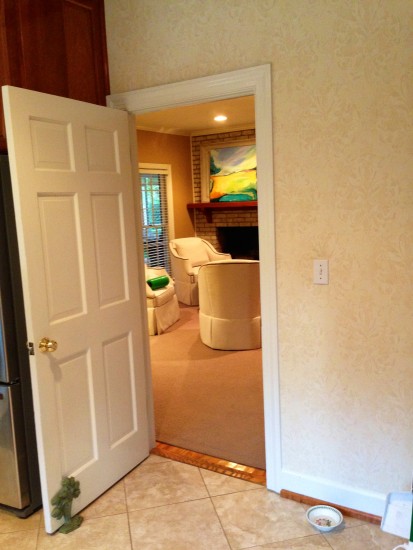 Thinking back, we probably should have done this when we renovated the kitchen the FIRST time!
Hindsight 20/20, right?
I have about one week to finish what I started in June! Packing up dishes, silverware and all the furniture we are keeping to bring down after the renovation.
Stay tuned. I will share on Facebook, but you are welcome to come here on your own to see frequent updates!!
ML