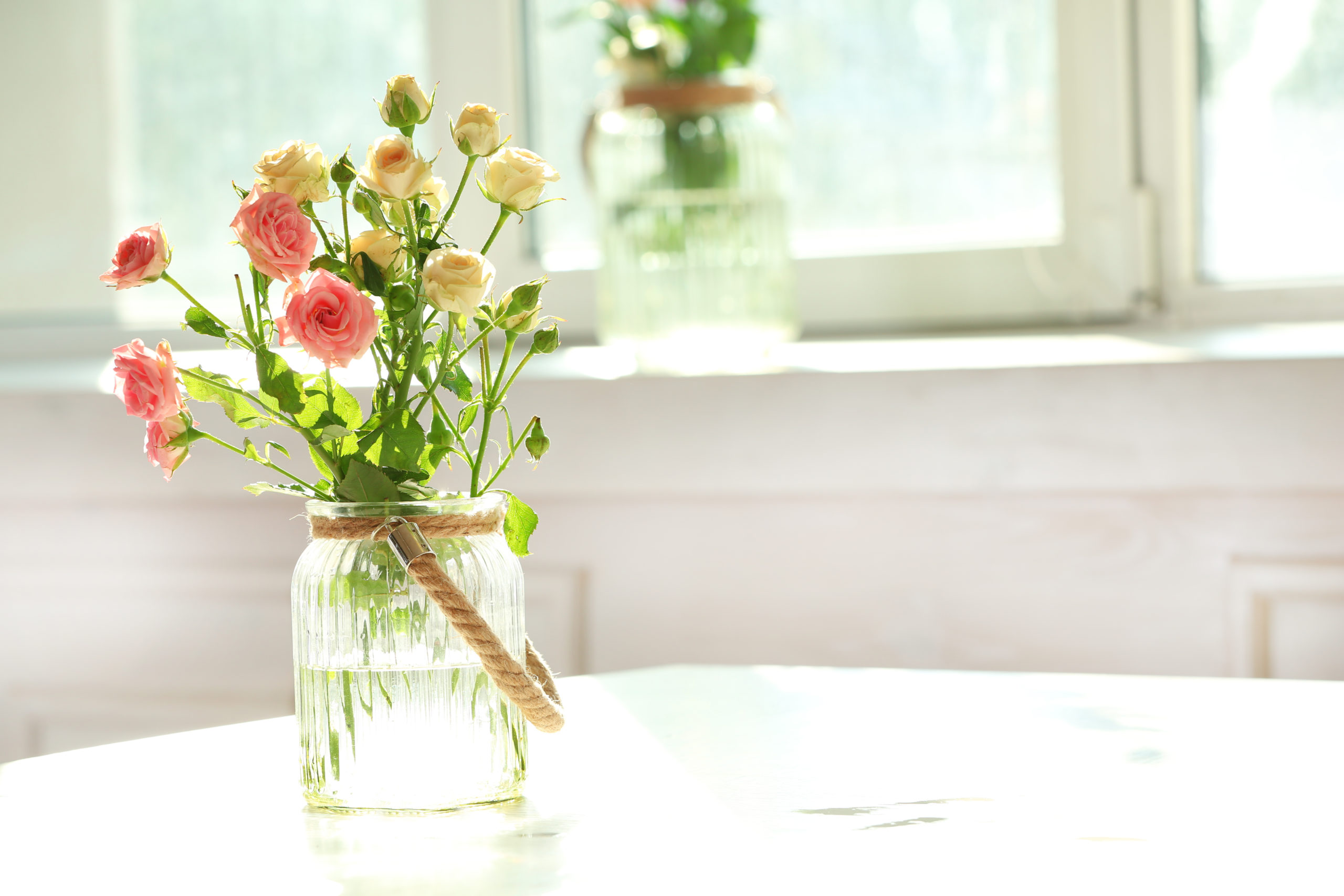 Hey.
Thought I would put a pretty picture up before I posted these raw photos of my face.
I know you have questions, so I'll do my best to be honest and complete. Reply here w questions– chances are someone else will want to know the same thing.
Backstory & Full Disclosure
I am 56 and started taking good care of my skin consistently at 50. The pandemic derailed my "beauty routine" and it is time to get back on track.
Dr. Brown at Southern Dermatology recommended the CO2 Laser treatment for my face and neck. My goals are to reduce sun damage, increase plumpness of skin, and rejuvenate my neck.
It helped me to see progress photos of women who have had CO2 Laser treatment, but there were few who included notes with the photos. Hopefully, this will help you if you decide to do this.
Wednesday
No photos on day of.
The Medical Assistant applied numbing cream all over my face and neck. I was not wearing makeup, but they can remove that before the treatment. I waited for about 45 minutes (Dr Brown had an emergency, but I was still numb) before the treatment started.
Dr Brown wore protective glasses and I wore goggles. On a scale of 1-10 with 10 being worst pain, it was about a 3 and only when the laser zapped the skin. It felt like zaps of hot oil when it sputters out of the pan.
I just kept thinking about the benefits of the treatment and chattered away with Dr. Brown. Made the time pass quickly. Dr. Brown said that the first hour and one half would feel very fiery. She covered my face in ointment then I headed home. An ice pack at home really helped ease the fiery feeling especially on my neck.
I slept fine Wednesday night.
Thursday
Post procedure instructions include a weak solution of vinegar and water. One teaspoon to two cups cool water. I soaked a soft wash cloth with water and just placed the cool cloth on my face and it felt really good!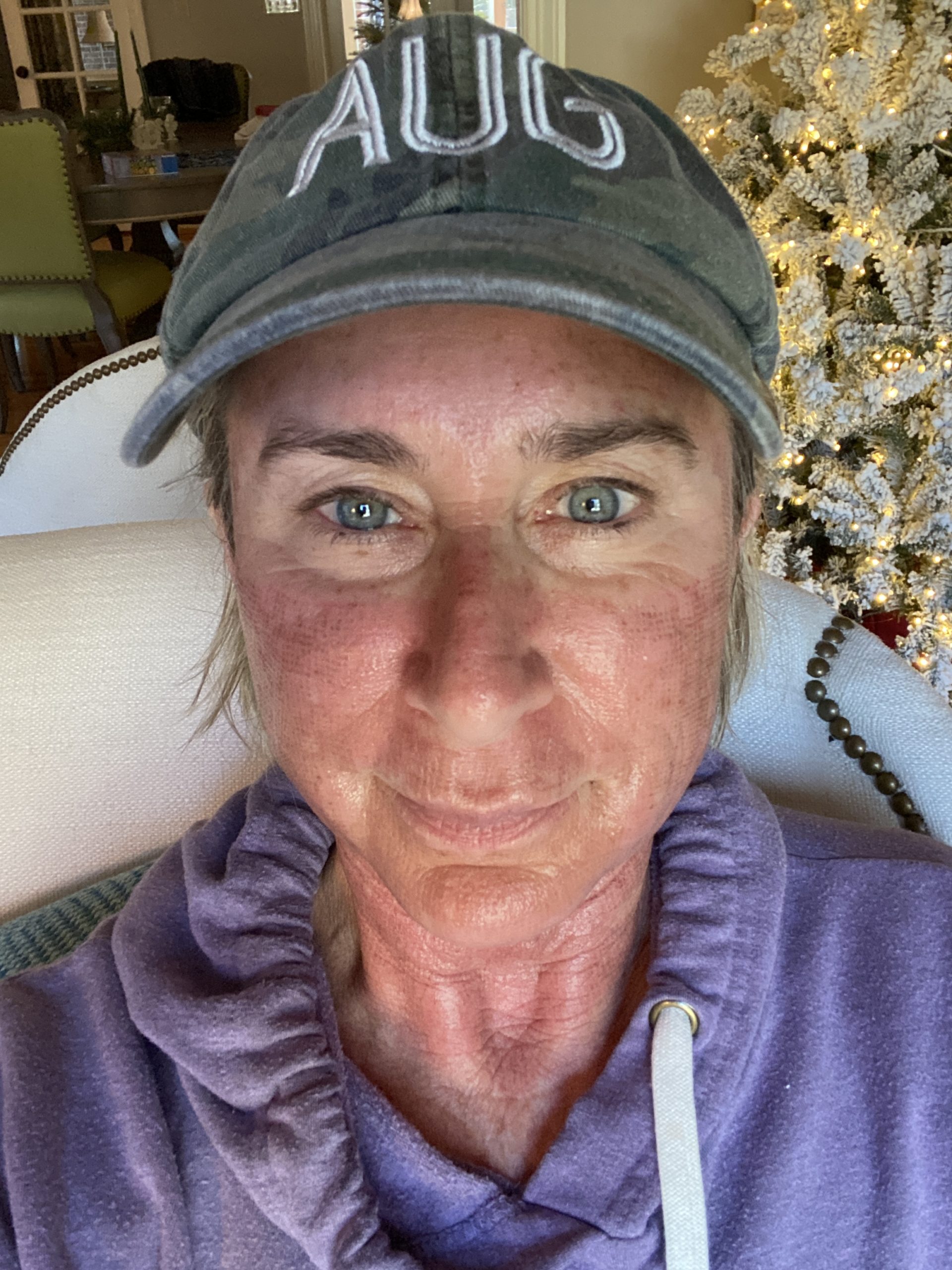 I wore this hat and bundled up for an early morning walk. Vaseline feels good on my red, hot skin!
Vinegar/Water soaks throughout the day. Had periods of the day where I felt a bit chilled. No Advil, lots of water today.
Here are a couple of close ups.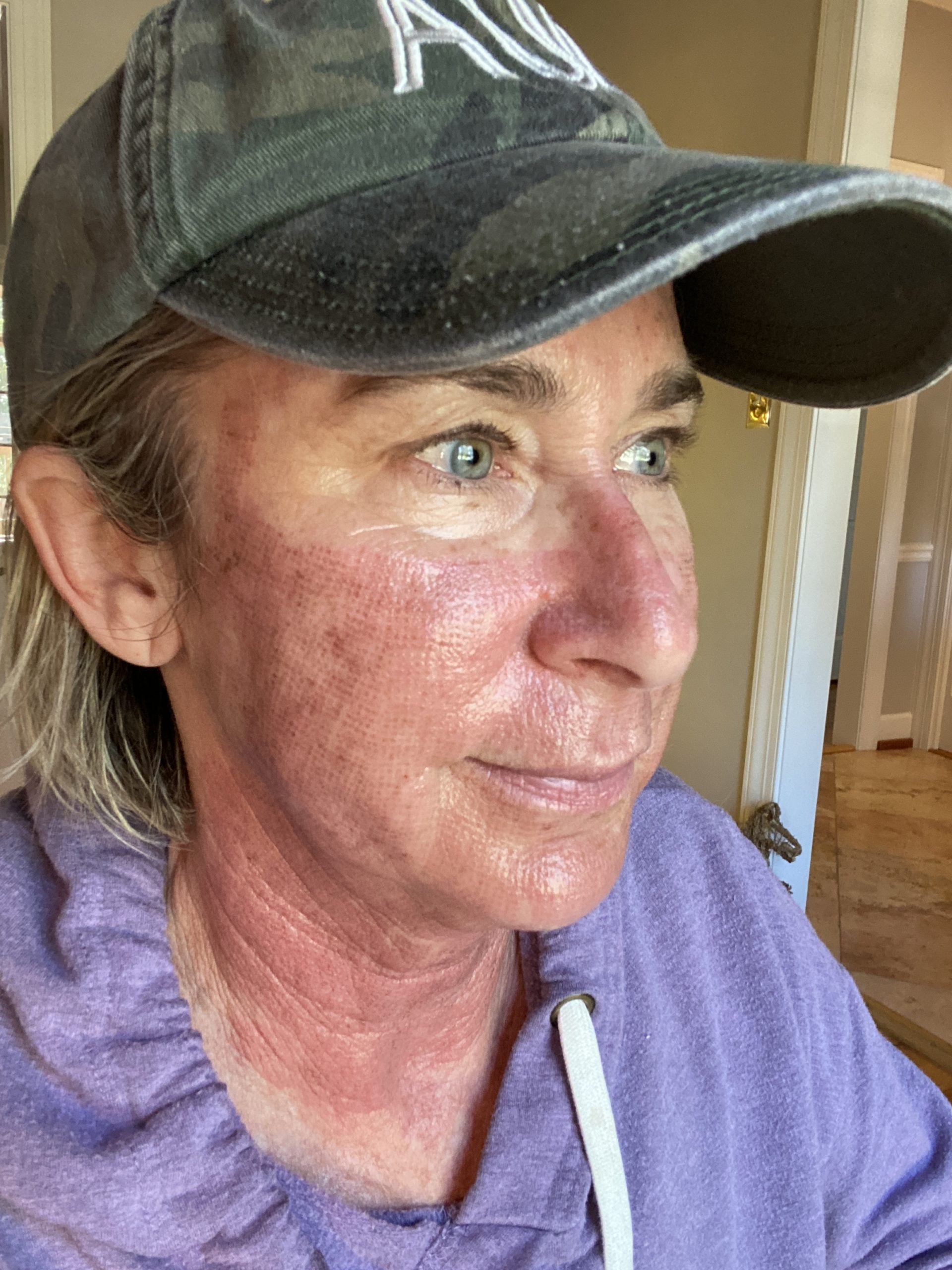 I can tell that my neck is a little swollen. The lines on my neck are even more noticeable with the redness. My cheek has brown splotches and tiny brown dots from the laser pixels. Looks like I smashed my face on mesh fabric!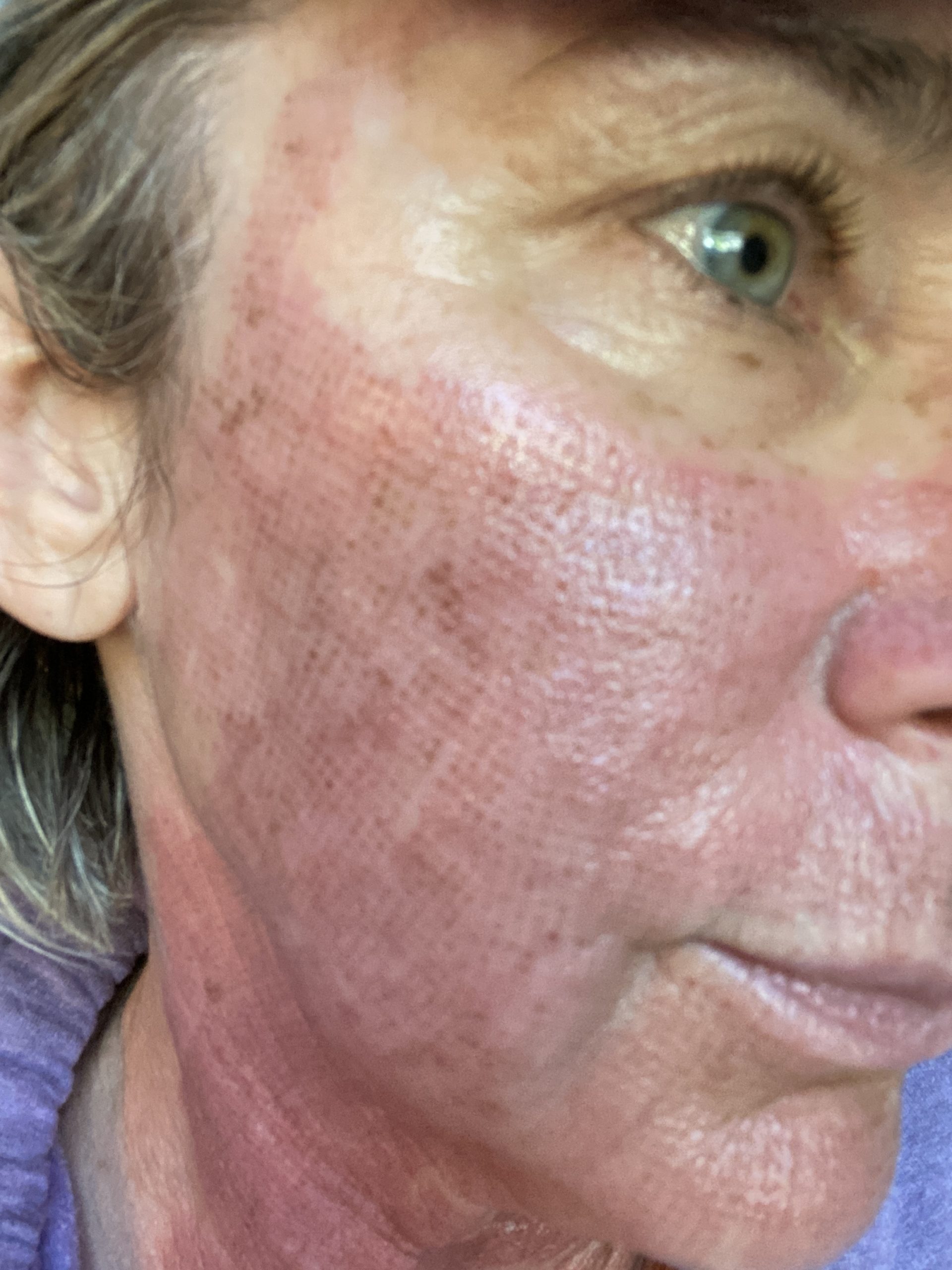 Zoomed in a little closer on the right so that you can see the meshy texture and the sun damage already cropping up to the surface of my skin.
I am pleased that she focused on the lower face and neck, but I wish we had turned in a little closer to my eyes!
It's important to drink a lot of water and eat good food while your body attempts to heal. Sleep is also critical for the healing process!
Friday
Today I woke up feeling great and well rested. By noon my face was warm with a little swelling under my chin. I saturated my face and neck with vinegar solution then Vaseline and took one Advil. Within one hour, I was fine and the swelling went down. My neck feels raw and the jawline is a little itchy.
And yes, I am wearing the same clothes!
I hope by tomorrow (Saturday) my neck will be a little cooler and less raw.
Ironic that my word for 2022 is HUMILITY! Questions? Tap them out here. I will be back!
ML