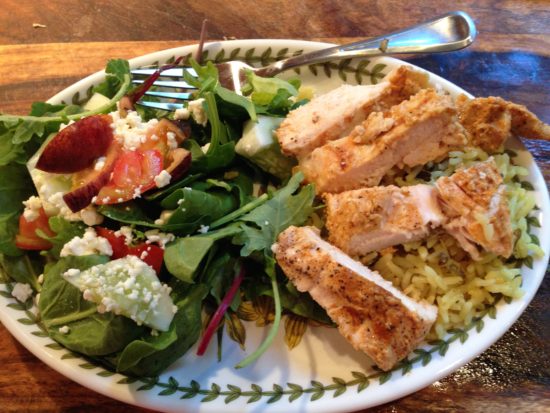 A couple of requests for home made salad dressing with  a guarantee that you will not want store bought dressing again!
Use this on traditional salads with lettuce and venture out to chopped raw veggie salads too.
You will love it and your bod will appreciate the lower sugar yumminess of this one.
ML's Basic Salad Dressing
½ cup minced onion or shallot
2 tablespoons olive oil
2 tablespoons honey
2Â tablespoon apple cider vinegar or white Balsamic vinegar
½ teaspoon salt
1 squeeze lemon or orange juice
You can mix all of this together in a mini processor/blender for a thicker dressing
or just put the ingredients together ( I use a Good Seasonings cruet) Â and shake shake shake..
Add ons to this recipe include chopped grape tomatoes, basil from the garden. When using fresh tomatoes in the dressing, be sure to serve immediately. The tomatoes will get too mushy if you save for another day.
If I have fresh garlic on hand, I shoot a couple of cloves through the press.
I don't remember the last time I used store bought dressing. This can be used over salads with lettuce or on chopped veggie salads–like onion, cukes, mushrooms. olives and chick peas…
Now I am hungry.
See you.
Enjoy.
I am on my 24th-ish Stitch Fix box.
My designer Lori and I communicate through Twitter and my feedback when I check out on line.
She knows me.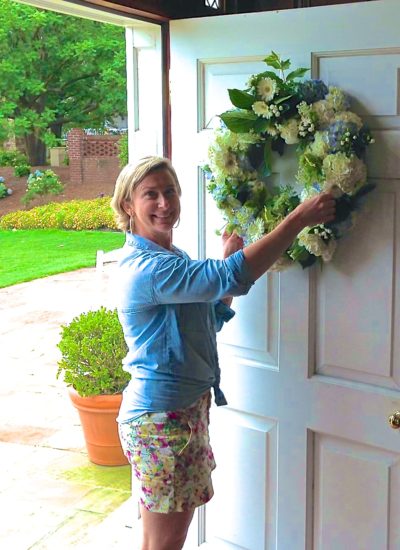 She sent these shorts and I could not wait to put them on.
Perfect with my comfy chambray shirt, and off to work I go!
So my 24th Fix means I've been doing this for awhile. I am not a shopper.
Love a surprise at my door every couple of months. Then I add to the surprises with
Get Your Pretty On -Allison Lumbatis shopping list.
Check out her blog- you will love it.
Do people tell you–"You are so creative" ? 
I hear that a good bit, but I've never thought of myself as a creative person until about 11 years ago, maybe,
when my children grew a little more independent. Then I had time for "creativity". I listened to this podcast recently, and there are several very interesting points about igniting your creativity and how to become more creative.
You are creative.
Head over to Jeff Goins website for a look at what I am talking about.
Listen to this Podcast with Keith Sawyer.