We have 3 Ichiban Eggplant plants growing wildly in The Back 40, so I continue to experiment with new recipes for grilling and roasting. We liked this one very much. Even Mr.Rick, who only ate it because it was out of my garden, seemed to enjoy! This recipe is from Culinate.com. The Ichiban eggplant is very tender and not acidic as I have found regular globe eggplant. No need to soak in ice water or salt prior to cooking. Hope you enjoy. ML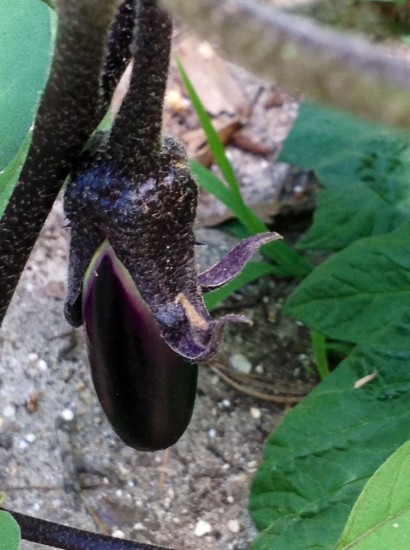 Eggplant with Honey Soy Glaze
Ingredients
Honey Soy Glaze
| | | |
| --- | --- | --- |
| | ¼ | cup honey |
| | ¼ | cup vegetable or peanut oil |
| | ¼ | cup fresh lemon juice |
| | ¼ | cup soy sauce |
| | ½ | tsp. minced garlic |
| | ¼ | tsp. red pepper flakes |
4 Japanese  eggplants

2 tsp. sesame seeds, toasted
Steps
Whisk together the glaze ingredients. Set aside.
Fire up the grill. Cut each eggplant in half lengthwise, leaving the stem on. Then partially cut each half several times lengthwise, like a fan. If using a globe eggplant, slice it into ½-inch-thick rounds.
Pour half the glaze over the eggplants in a medium bowl and let them marinate for 10 minutes. Remove the eggplants from the marinade. Allow any excess marinade to drip off, to prevent a flare-up when you place them on the grill.
Grill the eggplants, turning as necessary, until tender, 4 to 6 minutes.
Place 2 eggplant halves or 2 slices of eggplant on each plate and drizzle with a bit of the remaining glaze. Garnish with the sesame seeds.
Notes
The glaze will keep about a week, tightly covered, in the refrigerator.