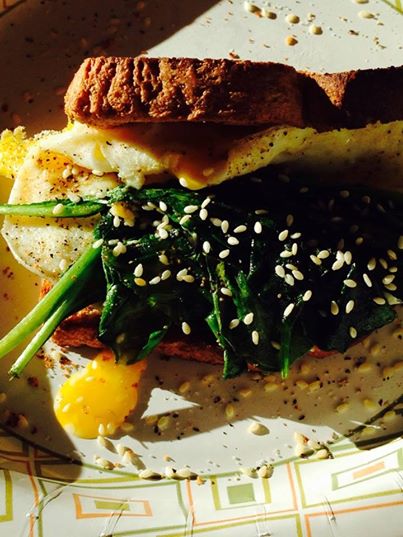 With all the healthy liquids we are pouring into our thirsty bods right now, there just comes a day when you need to have some substance, a breakfast for your tastebuds!
I love this easy breakfast sandwich.
1 slice whole wheat bread, toasted.
1 egg
1 Tablespoon of sesame seeds lightly toasted.
spray olive oil
salt/pepper to taste
Spray a non stick skillet with olive oil spray.  Crank up the temp to medium high. Meanwhile, toast the bread slice. Saute spinach in the skillet until it is soft and dark green. Crack the egg and place in the pan to fry to the doneness your tastebuds will enjoy! Put the sesame seeds on a piece of aluminium foil and toast just a bit…(I use a toaster oven)watch because they will burn. Anyone with an easier idea for this, please post below.
I like my sammich egg a bit drippy so I can catch the sesame seeds left on the plate with the toast and egg yolk!
enjoy.
PS. There is a "REPLY" box below. Please let me hear from you just as you would post on Facebook, this is where we will converse during Lent!