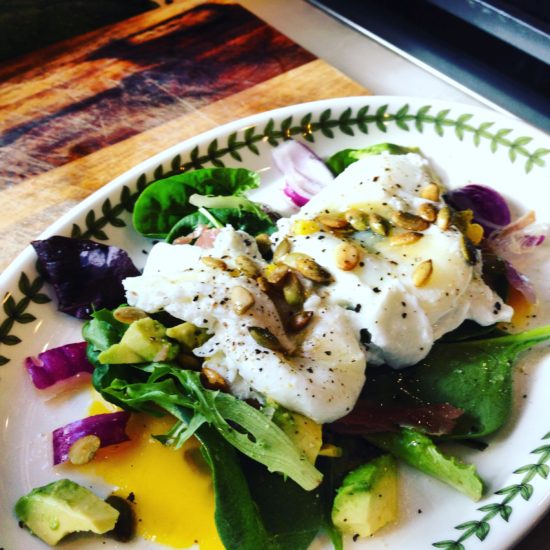 I've been researching Paleo recipes to increase good fats and protein. I still have carbs in my diet, but cycling those now to bring down my body fat. Anyway– you know I like to prepare a tasty presentation so I decided to try this Paleo breakfast salad.  Here is the recipe from Paleo Leap, and below that are my adaptations and a comment if you have people who prefer to eat boring at your house…There is a bit of training to be done at my house with this #emptynest thing about to happen. Meals will be lighter but nutrient dense!! Head over to Paleo Leap for some tasty recipes…
Paleo Leap Breakfast Salad
Ingredients
2 cups of mixed greens;
1 green onion, sliced;
4 cherry or pear tomatoes, chopped;
½ bell pepper, diced;
1 large egg;
Prosciutto or bacon to taste;
2 tbsp. extra virgin olive oil;
1 tsp. balsamic vinegar;
1 tbsp. fresh lemon juice;
2 tsp. rice vinegar;
Sea salt and freshly ground black pepper to taste;
Preparation
In a small saucepan placed over a medium-high heat, bring the water to a gentle simmer and add the rice vinegar.
Break the egg into the water, turn off the heat, and cook for about 4 minutes.
In a small bowl, combine the olive oil, balsamic vinegar, lemon juice, and salt and pepper to taste.
Mix the greens, bell pepper, tomatoes, and prosciutto or bacon in a serving bowl.
Add the olive and oil balsamic vinegar to the salad.
Add the poached egg on top of the salad and serve.
ML Adapts
Fill half your pan with water, I don't see water on the ingredient list here
I used purple onion
The toppings I used were: pumpkin seeds toasted, Â 1/4 avocado chopped, 2 poached eggs, proscuitto
ML Comments
Fry up some eggs and sausage for those who don't appreciate your artistic cooking abilities. Otherwise, this is delicious.
Let me know what you think about this recipe– hit the reply button and we can chat.