Summer Bowls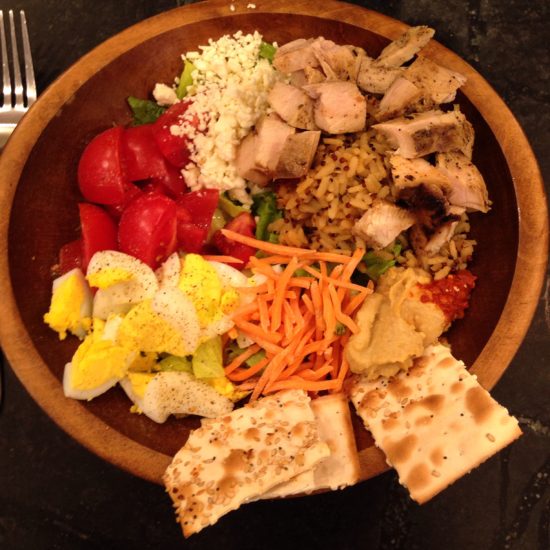 Preparing summer bowls for dinner is easy and uncomplicated just as summer should be.
Healthy bowls are just what you need when the kids are out of school and you don't want to spend the long evenings cooking.
You'd rather be out in the garden, right?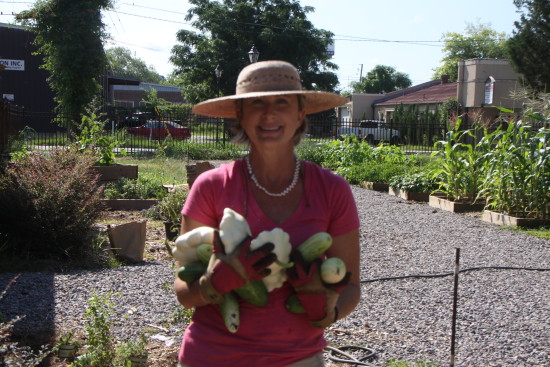 Inspiration
Ever since I ordered the Mediterranean Duo plate from Bodega Ultima in Augusta the concept of
preparing and presenting food in a healthy way has boosted my creative cooking at home.
Bowl recipes and combinations are all over the Internet, too, it's sort of like making a pizza.
This is also similar to putting a flower arrangement together.
Meat and rice would be the hydrangeas, then add the veggies as roses and zinnias, then feta, avocado and dressing as the
interesting smaller items that really add some pop to the arrangement.
Your choices of ingredients are endless.
Vegans, Vegetarians and Carnivores
Bowls are perfect if you are feeding  vegetarians, vegans and meat eaters all in the same room!
My appetite has changed and I don't eat nearly as much meat right now, but
bowls, even without meat, are very satisfying.
My brother, Clark, surprised me with this book since he knows I enjoy this type of meal.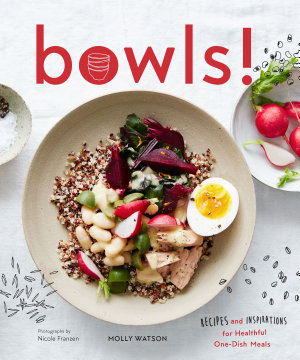 Thank you Yo Bro!
While Clark was here we enjoyed two bowl meals.
There really is no end to the possibilities for creating your own bowls.
Clark made the Sizzling Beef Bowl — sesame brown rice + sizzling beef tenderloin + charred veggies + pepper lime sauce.
This recipe is in Molly Watson's book, bowls!  as pictured above.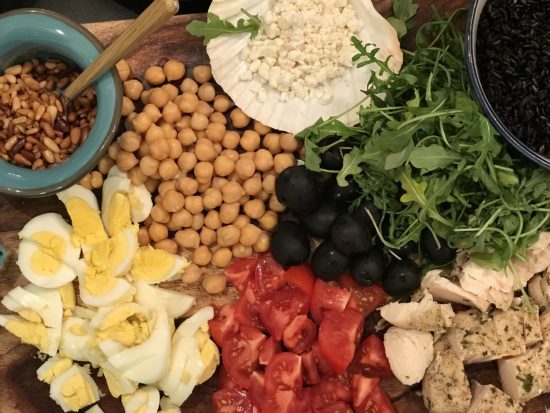 Keep It Simple
I start with a grain like brown/black rice or a boxed flavored couscous or quinoa.
Then I open up the fridge and peek in the pantry for veggies like broccoli, tomatoes, black beans,
avocado, beef/chicken, pumpkin seeds.
I have a collection of wooden salad bowls which is perfect for these creations.
Each food item is put into the bowl in individual sections.
ML's Killer Bowl
Another night I made what we named ML's Killer Bowl and here is the recipe.
What you might or might not like about this is that there is no exact quantity in making some of these bowls.
I'll do my best to give you the amount of food we had to create this bowl and feed about 6 of us.
ML's Killer Bowl
(it was so good, I forgot to get a photo)
Ingredients
2 cups of brown rice cooked in organic vegetable broth
roasted chicken (from grocery store) chopped
beef tenderloin chunks (leftover)
spiraled sweet potatoes – about 2 cups, cooked in cast iron skillet w/a tablespoon of olive oil
broccoli, large head, steamed with garlic and salt
1 can chick peas
2 Vidalia onions, caramelized
1 bag of shaved Brussels sprouts, sautéed with 1 Tbs. butter
feta cheese
2 (needed 3) avocados, sliced
Place the ingredients in individual containers to serve or on a large platter with serving utensils.
You may want to put the vegetarian options together and the meat in a different serving bowl.
I love our wooden salad bowls for eating this unique supper dish–they were Maw Maw's bowls.
We like to add a drizzle of salad dressing which I keep on hand.
I rarely use bottled salad dressings unless I am in a real rush and desperate.
Making your own salad dressing is so easy and very tasty.
3/4 cup Olive Oil
1/2 cup white balsamic vinegar or apple cider vinegar
handful of finely chopped fresh herbs from garden
(rosemary, oregano, thyme, mint, basil)
sprinkle of salt and pepper.
Keep your bowls simple.
Enjoy the richness of summer, set the table outside with flowers and candles.
I hope you enjoy making bowls as much as we enjoy eating them!
See you.