A Holiday Decorating Plan
The next couple of months whiz by so lets gather up some ideas and make a holiday decorating plan starting with Thanksgiving.  Whether it is for your table, a foyer arrangement or a mantle–or all of the above! Having a plan in mind and collecting what we need will lower the stress level so we can enjoy cooking and being with family and friends.
Thanksgiving Ideas from Nature
One of our most recent brides, Anna, sent me photos from an engagement party she hosted for her brother and his fiancee. Anna is a nature loving newlywed who loves to entertain. Anna used roses, mums and alstroemeria from the grocery store then foraged cedar and privet berry clusters which really made the pumpkins pop! She graced her dining tables and mantle with her creations!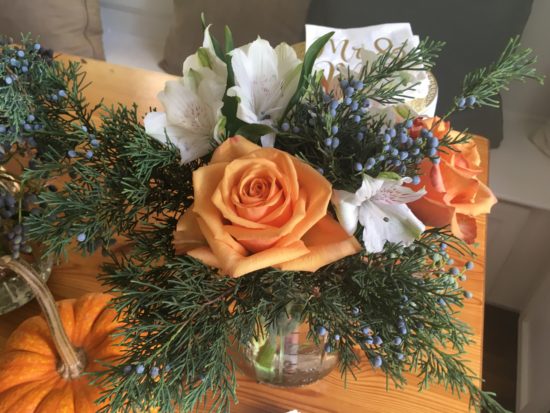 Take a look at the cedar with the blue berries!
The berries are perfect with the pumpkin colored roses and white alstroemeria.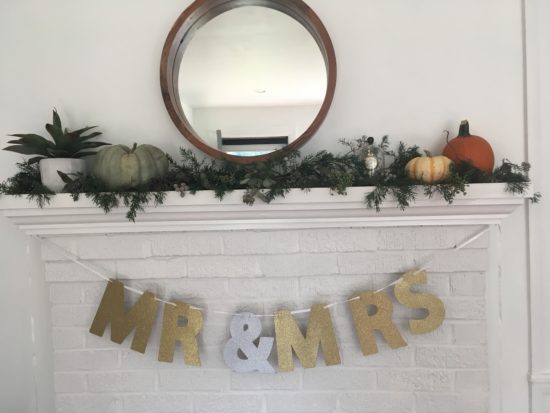 Cedar with the berries, a variety of muted pumpkin tones, privet berry clusters and votives make Anna's mantle festive
and will transition easily into Thanksgiving. Keeping your arrangements simple will draw attention to the
beauty of the flowers and the berries. It's refreshing to be able to appreciate the pumpkins, too, without a lot of fuss!
Here are a few more of Anna's engagement party creations.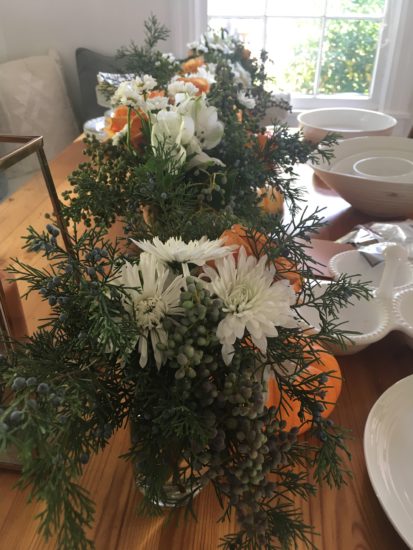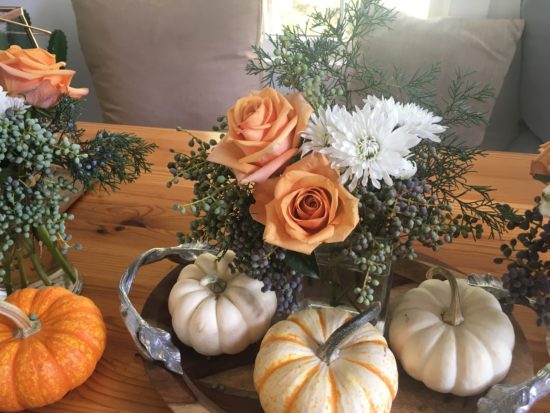 Anna found the secret stash of privet berry clusters!
I love the simplicity here and the muted tones which really make the orange pumpkins stand out.
Adding greenery and berries to the grocery store flowers made the arrangements unique.
We don't have to spend a lot of money or create elaborate arrangements to have a beautiful look.
Thank you for sharing your photos, Anna! You did a fabulous job.
I'll be sharing more Thanksgiving decor ideas here so please fill out the subscription box!
Mary Louise