Succulents and salad were a big hit at yesterday's "tennis party" as Robert calls it. If we didn't have tennis apparel on I guess it would be called a hen party?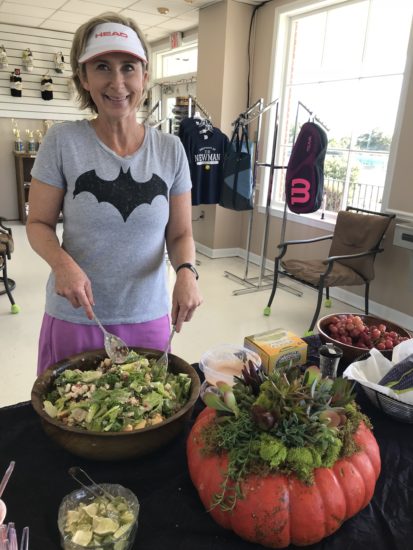 I've been on Loretta's B team for a few seasons, and decided this season to mix in with the ladies a bit more instead of darting home.  When our team hosts a match against a visiting team, we serve lunch after the match, so my contribution today was a festive centerpiece and a huge bowl of salad. I am working on a succulent tutorial so hang tight.
Salads allow for creativity, so improvisation on a recipe is usually what I do. Here is the original recipe from Carlsbad Cravings blog. We hosted around 25 ladies at the tennis party, so I basically tripled this recipe. I would rename my version Pomegranate, Apple, Pistachio Salad with Creamy Pomegranate Dressing.  If you are going to make for a large group, be prepared–it is not an inexpensive recipe. Be sure to read my notes below the recipe because there was some serious improv going on!! 

POMEGRANATE, PEAR, PISTACHIO SALAD
WITH CREAMY POMEGRANATE DRESSING
Pomegranate, Pear & Pistachio Salad
1

 

large head romaine lettuce, chopped

1

 

sweet apple, like Fuji, chopped

1

 

pear, chopped

1

 

small cucumber peeled and chopped

1

 

small red bell pepper, chopped

1/4

 

red onion, chopped

1/3

 

cup roasted and salted pepitas

 

(may sub. sunflower seeds)

1/3

 

cup

 

roasted and salted pistachios

1/3

 

cup

 

pomegranate arils

1/2

 

cup

 

feta cheese
Creamy Pomegranate Dressing

1

 

5.3 oz. container

 

Greek Yogurt with Cherry Pomegranate (I use Fage)*

3

 

tablespoons

 

Sweet Asian Chili Sauce (found in Asian section)

2

 

tablespoons

 

pomegranate juice

2

 

tablespoons

 

mayonnaise

1

 

tablespoon

 

apple cider vinegar (add more to taste for "tangier")

1

 

tablespoon

 

lemon juice

1/2

 

teaspoon

 

Worcestershire sauce

Salt and pepper to taste
Whisk together all of the Creamy Pomegranate Dressing ingredients in a medium bowl and chill in the refrigerator while you prepare the salad.

Combine salad ingredients in a large bowl. If serving entire salad immediately, drizzle with desired amount of dressing and toss to coat. If there might be leftovers, drizzle dressing on individual salad servings. Top with freshly ground salt and pepper.
ML notes for  Pomegranate, Apple, Pistachio Salad with Creamy Pomegranate Dressing.
You'll see in the photo that I separated each main ingredient on top of the salad. This is a nice presentation and you get lots of ooohhh's and aahhh's and questions about what is this what is that before you actually toss the salad. Here are my substitutions and if you make this for a crowd, adjust the amount to the size of group and to your liking!
I used apples only because I was nervous about having pears AND apples turning brown while the salad sat in fridge during our match. You can sprinkle a little lemon juice on apples/pears to keep that from happening. I used bagged romaine(kill me), did not use the red bell pepper. In case you are wondering what "pomegranate arils" are, they are the seeds inside the pomegranate. I bought them at Publix in the produce section.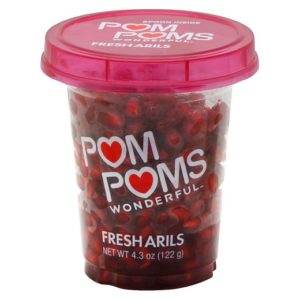 For the dressing I did use the Fage Cherry Pomegranate Greek yogurt, but added plain Greek yogurt to it because I needed more volume in the dressing and it was too sweet for me! You could very easily skip the Fage Cherry Pom yogurt and use plain and add more Pomegranate juice(POM found in fruit juice dept grocery store). Don't skip or skimp on the Sweet Asian Chili Sauce! I kept adding more of this in because it has a nice palate kick to it.
This is a loaded salad and perfect for a crowd or small group. It's also a vegetarian/meatless option.