Red Lentil and Artichoke Stew
Finally! I wore long sleeves yesterday, opened the windows and made a delicious dish of Red Lentil and Artichoke Stew! We've been wanting to try a dish with red lentils or "pulses" as they call them in UK. The humidity broke yesterday so it was the perfect time to make this stew.  I thought this was more of a curry type dish, but the original recipe from the 21 Day Vegan Kickstart is not. I added a few more spices(turmeric, curry, coriander and garlic) than the recipe calls for so if you don't care for curry omit it and I am sure it will be delish!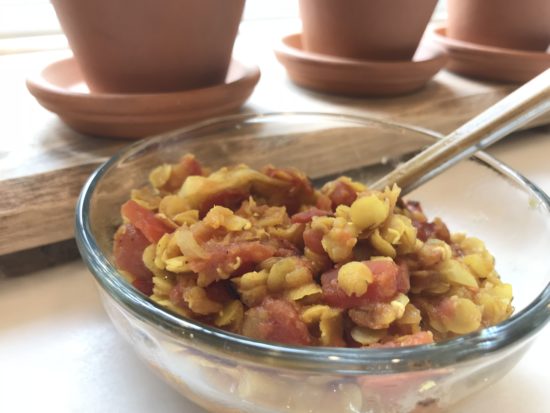 Red Lentil and Artichoke Stew
1/4 cup vegetable broth
1 onion, chopped
3 large garlic cloves, pressed or minced
2 teaspoons ground cumin
1 teaspoon ground coriander
1 tsp curry powder
1 tsp turmeric
1 cup dry (uncooked) red lentils (3 cups cooked)
1 bay leaf
2 cups vegetable broth
juice of 1 lemon
2 24-ounce cans chopped tomatoes (preferably fire-roasted), undrained
1 can tender small quartered artichoke hearts
1/4 teaspoon crushed red pepper (optional)
1/4 teaspoon salt, or to taste
1/4 teaspoon black pepper, or to taste
Heat 1/4 cup broth in a large saucepan. Add onion and sauté on medium heat for about 5 minutes, until golden. Add garlic, cumin, turmeric, curry powder and coriander and cook for 2 minutes, stirring frequently. Add dried lentils, bay leaf, and water to pan and bring to a boil. Lower heat and add lemon juice, tomatoes and their liquid, artichokes, and crushed red pepper (if using). Simmer for about 20 minutes or until the lentils are tender. Remove and discard the bay leaf. Add salt and black pepper to taste.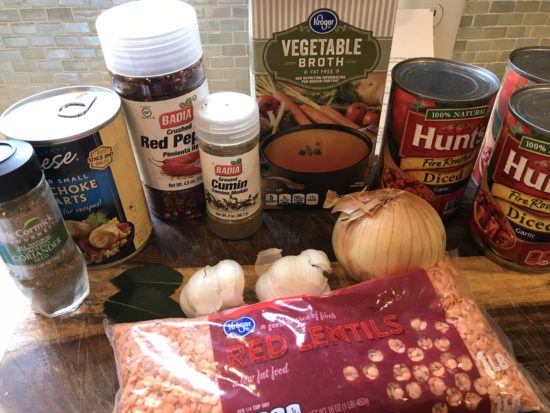 I hope you will give this one a try. It is delicious and a bit out of the box for most of us! You could add Italian sausage or Kielbasa to the recipe or add as a side for your carnivores! Could be served over brown rice, too.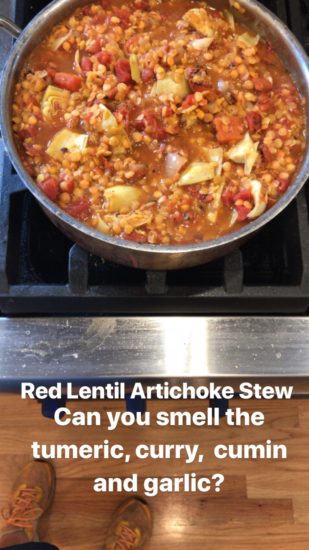 You will love the smell of garlic, onions and spices in your kitchen!
Next Up…
Winter Squash Experiments
The Beauty Drawer
If you are not on Instagram, I've added my Instagram feed here on the website. I do a bit more posting on Instagram when I cook, beauty shop day and just life in general!