The Classic Wrist Corsage
 Details
Bouquet de Corsage
I remember high school dances many years ago- live bands, dancing and the corsage. I've made many corsages since then for friends, family and clients. Way before my high school days which seems like an eternity, people wore corsages on their bodice–the "bouquet de corsage". That's where the name corsage came from and continues today as a lovely tradition of giving a flower to a date before a special occasion. By early 1900's the corsage found it's way closer to the shoulder and now we see them on the wrist.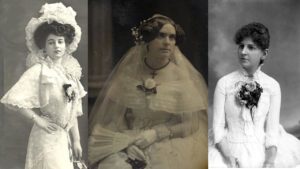 When I first started making wrist corsages–before Google– it was very frustrating trying to figure out how to keep the flowers stable on the velcro strap and metal clips made me want to scream! Thankfully, the process is much easier once I found the tools and learned some tricks. Happy to share some of them with you here.
Wrist Corsage
The wrist corsage is what we are creating today.
ML Tip.Make sure to get your supplies together and create a clear space for doing this to keep the frustration level low! Corsage making is tedious, detailed work so you need to be ready! I ask Alexa to play symphony music when I work with flowers, it calms me and a veil of creativity comes over me while I am working.
Supplies
Shimmer gold slap bracelet
green floral tape
zip ties
Oasis floral glue
hydrangea
ivory spray roses
buttercream ranunculus
greenery–mini gardenia stems, variegated mini gardenia stems, boxwood stems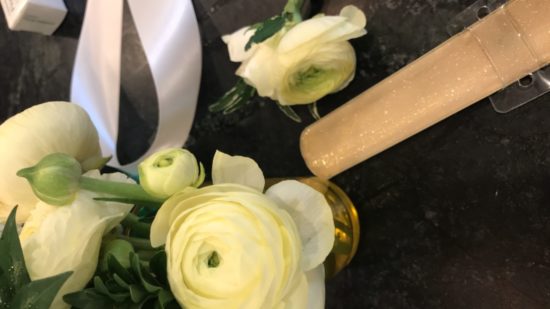 Step One. 
Begin by making two tiny bouquets, more like bouttonnieres,
by wrapping a rose, a ranunculus stem and a stem of greenery with soft green floral tape.
Step Two.
Next, secure the two tiny bouquets with a zip tie in the center with flowers on opposite ends as pictured here.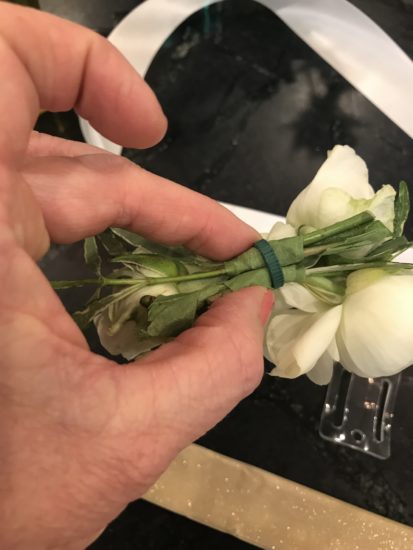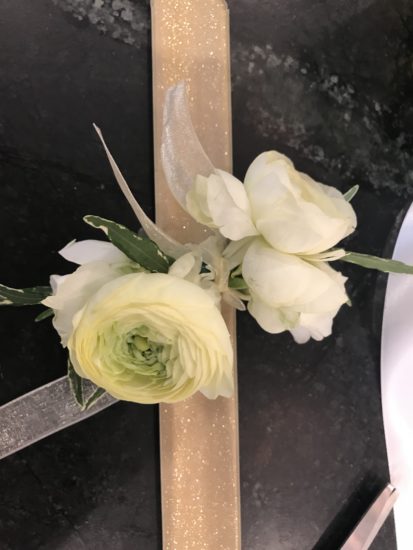 Step Three.
Remove the plastic guard from the bracelet and slip two 12 inch pieces of ribbon through each larger opening.
I attached this little grouping to the clear plastic guard with ribbon.
Tie the ribbon securely in a knot so the flower bunch does not move.
Step Four. 
Thread the bracelet back into its original position with the clear plastic guard ending up centered.
Step Five. 
Now fill in with more greenery, flowers and buds using Oasis Floral Glue.
This stuff is a miracle for me especially when we are making lots of corsages for weddings and events!
Be sure to take note of the sides of the wrist corsage.
Place the corsage on your arm to make sure flowers are secure and all sides are filled with greenery or flowers.
Corsage Etiquette
A wrist corsage is worn on the non-writing/dominant wrist. If members of a bridal party are wearing wrist corsages, it is best for all to wear on the same side. If there is a dominant flower and stems are showing on the corsage, place the flower toward fingers, and stems toward the elbow! Pale peach, blush, ivory, white and green are always safe colors for flowers.