---
At some point toward our late 40's most ladies I know feel a need to shift the way we take care of ourselves. No one is immune to these changes, we all go through a little something, it is part of the process. For the next few weeks, I will intersperse some ideas for self care and we can chat about those and what you are doing to take care of you.  I know ladies who enjoy facials once a month and some once a year–me! Unless you count those paper masks?
Facials
Last month we spent a weekend away with friends. While Jack and Robert went fishing, Vivian and I put on our white terry cloth robes and enjoyed a couple of hours in the spa! We both signed up for anti-aging facials. After sipping on cucumber water we went back for our treatments.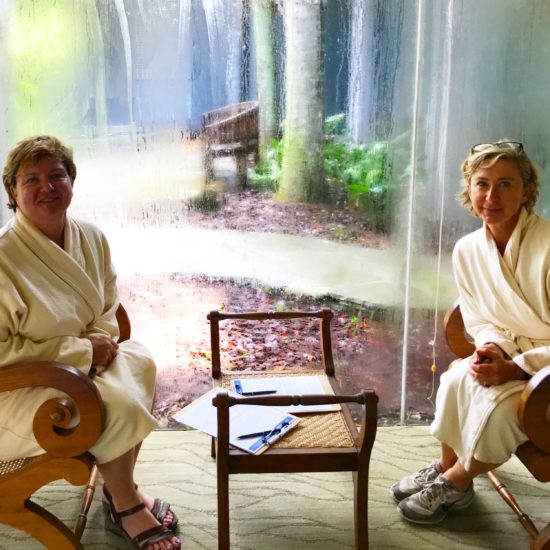 It was heaven.
As the years swirl by, it has been more important than ever to take better care of myself. You may think having a facial is extravagant, but it was a treat for me that I don't do often enough. My goal is to treat myself to a new beauty-type treatment once a month. That may be a facial, massage, pedicure, injectable–but something once a month will be a good start.
September is here and nearly over!
A friend told me about HydraFacial at local skin and beauty studio Cucumber and Mint. HydraFacial is a  "machine based" rather than hands on like Vivian and I had last month. HydraFacial cleanses, exfoliates, extracts and nourishes in less than an hour. Since I've been using a retinol product I can definitely use a good exfoliation! The HydraFacial is not cheap. Cucumber and Mint is offering an end of summer special so I booked an appointment for this Wednesday.
Keep an eye on Instagram Wednesday for a "real life" update.
If you've read this far, could you comment below with one thing you are focusing on right now to take care of you?
See you.
ML
PS. If you want each of my posts delivered to your email inbox, subscribe below. I appreciate you reading and hope that by sharing my experiences as a wife, daughter, mother, and floral/garden creative inspire you to know that we all can do more than we think we can.