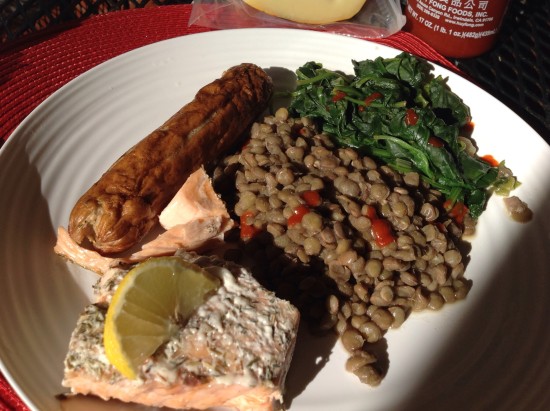 Most of you know we are renovating our house right now. Thus, the outdoor gas Weber has been the main source from which our meals are cooked! Easy, healthy outdoor cooking ideas have been the focus to keep meal prep simple.  I've been out there cooking in the rain holing an umbrella, in my fuzzy slippers when the temps dropped, but today– it is BEAUTIFUL!  Woohoo!
I enjoy cooking, but al the variables of renovation have made it a challenge. Today was easy and healthy outdoor cooking! Sam's plate is pictured above- lentils, fresh spinach, organic chicken sausage and seasoned salmon all with a few drops of Sriracha sauce. The lentils and spinach were cooked in a sauté pan on the side gas flame burner. That burner has been a miracle!  I have cooked everything I would cook inside on my gas burners on this side burner. Eggs, oatmeal, oat bran, grits, lentils, soup- you get the idea.  A miracle.
The salmon was pre-seasoned at the store, so all I did was wrap it up in foil and put inside the grill  (400 degrees) until flaky.  The chicken sausage was delish. It was fully cooked, so I warmed them over the 400 degree heat straight on the grill.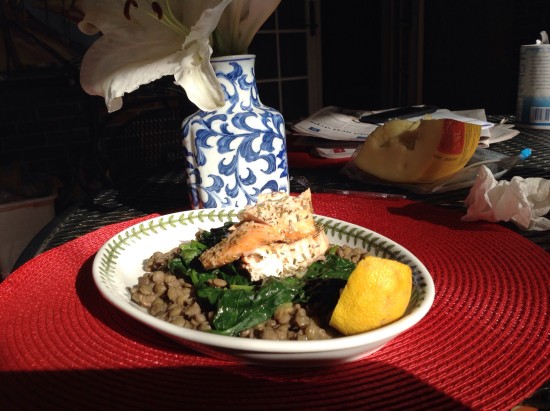 The lentils are great with the spinach, you could add carrots, onion and celery for more flavor. I used vegetable broth instead of water which gave the lentils a nice flavor.
The project is moving slowly, but some progress is better than no progress! I am always looking for new things to experiment with, so if you have a healthy outdoor cooking recipe to share– bring it on!
See you!
ML