Jeannette Hyde wrote The Gut Makeover
and
I love it!
Everyone should read the book regardless of whether or not they take the plunge
of cutting out sugar, alcohol, dairy and grains!
I enjoy a cocktail on the weekends or with friends, so this 28 day elimination  gives
my gut enough time to repair then reinoculate.
Hyde says "reinoculation means planting season in your garden: as well as eating all the nourishing foods from week 1 and week 2, Â you will focus on introducing" prebiotics and probiotics into your gut.
She equates our guts with a flowery garden full of good bacteria after the program.
See why I like her so much!
Day 3 of this detox has me realizing how interested I am in food!
Not hungry, just curious on creating from the abundant list of good meat, veggies and fruit.
My roasted vegetable salad photo on Social Media had lots of requests for the "recipe".
Enjoy and let me hear from you.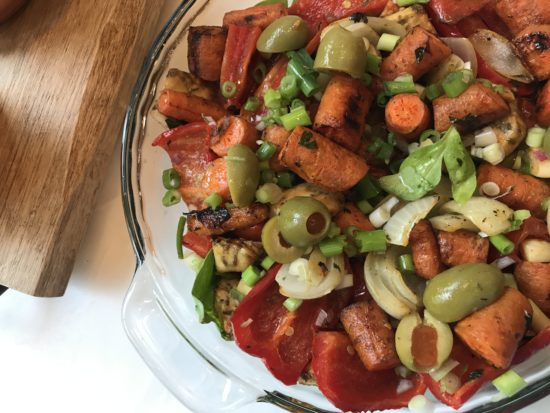 Actually, this was a pantry dump of veggies I needed to use or they would go to compost within a day or two.
Roasted Vegetable Salad
Chopped carrots
Purple onion sliced thick
Purple Ichiban eggplant peeled and sliced 1/2 inch slices
Red bell pepper chunks
Tomatoes quartered
3 Scallions chopped
Container of mixed baby greens or spinach
6 whole cloves garlic
Sliced green olives or kalamata olives
salt and pepper to taste
(use what is in season–summer squash, zucchini, Vidalia onions, pattypan squash, etc…)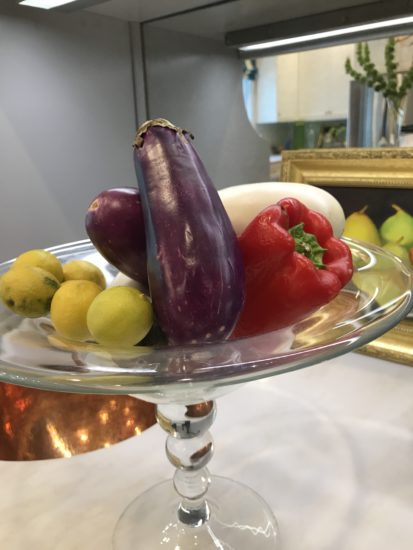 Pre-heat oven to 450 degrees .
Cover cookie sheet with parchment paper, Â put all the veggies on the paper, drizzle with about a tablespoon or two of EVOO. Don't let the eggplant get too much olive oil–soaks it right up and makes it soggy. Â Season with what ever you like. Salt and pepper, maybe Seasoning salt. Add fresh herbs just as you bring out of the oven. Basil, oregano, thyme…they all taste best on veggies at the end of cooking process.
Stir the veggies after about 5 minutes, then roast another 5 minutes. I keep watching to see if they are tender to taste.
Scatter the spinach or kale mix onto a platter then add the roasted vegetables. Sprinkle with a bit of fresh vinaigrette.
You could add feta, parmesan or fresh mozzarella too.
Vinaigrette
1/2 cup good quality extra virgin olive oil
1/4 cup good quality aged balsamic vinegar
1 tsp spicy brown mustard or dijon
sea salt and pepper to taste
add chopped garden herbs