Hey Sambo. I can't wait to see if you make any or all of these. You inhaled the Orange Chicken when I made it and it was delish left over, so try that one for sure.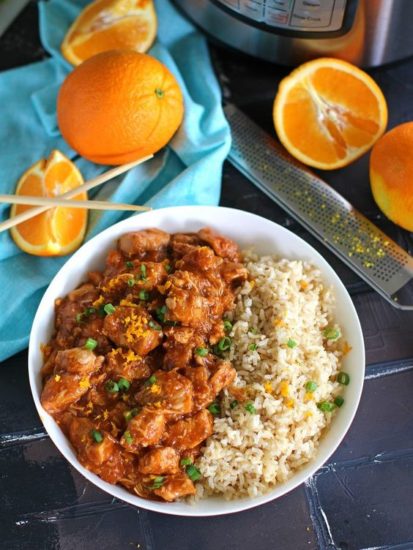 This recipe from Sweet and Savory Meals is delish. There are specific instructions for using the Instant Pot, so skip over the Slow Cooker info.
Orange Chicken
Buy a box of Success Brown Rice "boil in a bag" . Easy. Let that cook while your orange chicken is cooking. I used boneless skinless chicken thighs.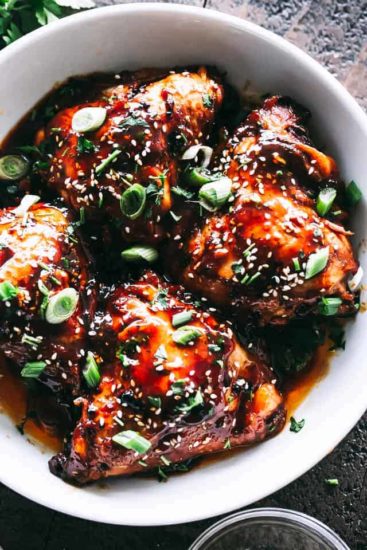 The Diethood blog is where I found this one.
Honey Garlic Chicken Thighs
Another good one. I use boneless skinless here too. Also, I am not big on "browning" in the IP unless I have to–I brown or sear meat in a cast iron skillet then transfer to IP. Can buy a bottle of roasted sesame seeds near the sushi or in spice aisle. And I use regular soy sauce not low sodium. Bleh.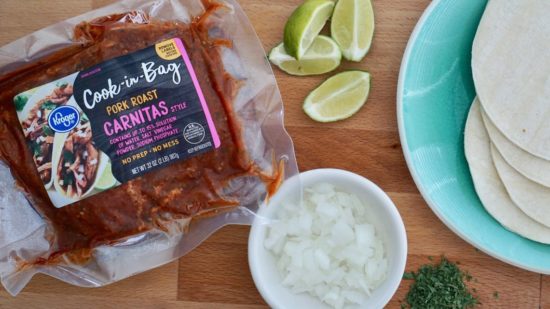 There's a lot you can do with pork roast. This one from KROGER is already seasoned and you cook it in the bag. I have cooked this one in the IP, but not in the bag. Somehow cooking in plastic seems not right to me!
Carnitas
Chop up the cooked roast and eat with brown rice. Could have canned pinto beans or black beans with this too. Chop up cilantro, purple/green onion, squeeze of lime. Verde sauce. Corn tortilla or not. This is one you definitely should make on the regular!
Healthy Fats
Here is a list of healthy fats to add to your grocery list. Eating healthy fats makes you feel fuller longer. Don't over do it with them, but add them in.
Avocado
Dark Chocolate
Chia seeds
Eggs
Salmon
Nuts
Nut Butter (put some on the chocolate)
Olives
Olive Oil
Tofu
Yogurt
Still Reading?
If you've read this far and you are not Sam, please help yourself to these ideas and be sure to check out the blogs I have linked for details on the recipes. I am so proud of my kids for their interest in cooking and healthy eating. Both are interests passed on to me by my mother and grandmother.
Do you have a favorite recipe for the Instant Pot or something easy that you have taught your kids living away from home to create? Let me know!
ML