Trying at least one new recipe, food or drink each week and sharing with you!
If you have one of these to share, please post in the reply section.
Also, if you have tried one that I post here, I'd love to hear what you think!
It is cold here in Augusta, finally!! The weather calls for fur coats and SOUP!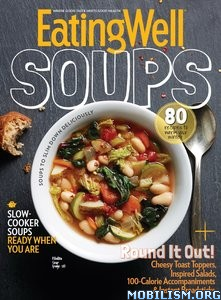 I picked up the Eating Well magazine "Soups" edition, and can't wait to try new soup recipe ideas!
Head over to www.eatingwell.com for more info and healthy recipe ideas.
I served with dark Jewish pumpernickel grilled cheese.
Enjoy.

Sweet and Sour Beef-Cabbage Soup
INGREDIENTS
1 tablespoon canola oil
1 pound lean (90% or leaner) ground beef
1 1/2 teaspoons caraway seeds
1 teaspoon dried thyme
2 1/2 cups frozen bell pepper and onion mix, thawed, chopped
1 medium Golden Delicious or other sweet-tart cooking apple, unpeeled, diced
6 cups reduced-sodium beef broth
1 15-ounce can crushed or diced tomatoes
1 1/2 tablespoons honey
1 tablespoon paprika, preferably Hungarian sweet
3 cups coarsely chopped Savoy, or green cabbage
1-2 tablespoons cider vinegar
1/4 teaspoon salt
Freshly ground pepper to taste
PREPARATION
Heat oil in a Dutch oven over medium heat. Add beef, caraway seeds and thyme and cook, stirring and breaking up the beef with a spoon, until it is mostly browned, about 4 minutes. Stir in pepper-onion mix and apple; cook, stirring, for 2 to 3 minutes more.
Stir in broth, tomatoes, honey and paprika and adjust the heat so the mixture boils gently. Cook for 8 to 10 minutes to blend the flavors. Stir in cabbage and cook just until barely tender, 3 to 4 minutes more. Season with vinegar to taste, salt and pepper.
NUTRITION
Per serving: 250 calories; 10 g fat (3 g sat, 5 g mono); 54 mg cholesterol; 20 g carbohydrates; 20 g protein; 4 g fiber; 705 mg sodium; 717 mg potassium.
Nutrition Bonus: Vitamin C (45% daily value), Vitamin A (30% dv), Iron & Potassium (20% dv).
Carbohydrate Servings: 1
Exchanges: 2 1/2 vegetable, 2 lean meat, 1/2 fat