My grandmother used to tell my mother "stop spinning your wheels". Mama often said the same to me when I was having trouble making decisions, not using my time wisely, or just plain being lazy. When I feel like life is swirling around me, I take a little time to reflect on where I am and where I need to be in order to see more clearly. You and I can learn many lessons from grandmama and mama, so I thought we could take a look back and a look ahead so we have some direction for 2018.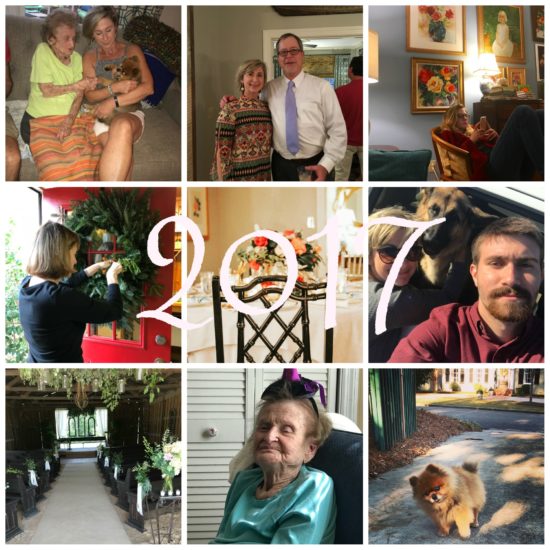 Reflections from 2017
PicMonkey has a cool feature  that enables you to gather your photos and make a nice collage. Since I am a visual person, this really helped me reach back to see what went on in 2017.
A few highlights here–
Spent quality time with mama(beauty shop, family time, Chinese food, time with Kathy, Weeter, Clark, Anita), tried new beauty tools to take care of myself (red light treatments, facials, collagen),  books/blogs/interaction by/with spiritual mentors (Pope Francis, Joyce Meyer, Thomas a Kempis, Joel Osteen), advancing my education on healthy living to share with over 40 readers in 2018 (Institute for Integrative Nutrition Health Coaching course, Rhonda NP podcasts), date nights with Robert, floral design business continues, love, love Wreath Workshop early December, lunches and dinners with friends more often,  just sit and spend time with my children and pets. Getting to know our favorite priest by spending more time with him.
Look back at last year.
Take just a few moments to look back at last year. I flip through my calendar notes and my iPhone photos. Doing one or both of these will dust off your memory. I'd forgotten some of the special moments we've had in 2017. It is very emotional to look back at the moments with my mama. I am still quite raw from losing her. Happy times, too, like Sam moving to Statesboro, Marianna's last year at UGA. our week at Hilton Head with friends, a trip to South America.
Take Notes
Jot down what you see and feel when you look back at the photos from last year.
Note the areas of life where you spent the most time. Was it balanced?
---
"Concentrate all your thoughts upon the work at hand.
The sun's rays do not burn until brought to a focus."
Alexander Graham Bell
---
Look Ahead
2018
Let's start the New Year off by looking ahead. Everything turns out better with some sort of plan. In my next post I will show you how I am going to design the structure of my year. I used to think this was a crazy unattainable idea, but now I realize that with this type of structure I can fill in where I need to–or just say no.
I will record this on video if you need to hear it as well as read it!
Happy New Year! 
ML