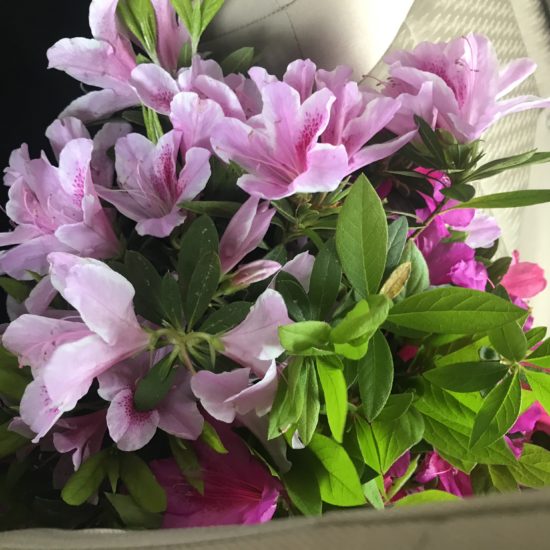 My friend Tracy invited me to Hickory Knob State Park for lunch with Nathalie Dupree. Nathalie gave a talk on Southern cooking, mostly about making biscuits. There were about 50 of us watching eagerly as Nathalie showed us her tricks for tasty, flaky biscuits. Most of the ladies attending were not from the South, so this was a new experience for them!
I love a presentation that is hands on. We had the opportunity to flour up, mix and cut out small biscuits. Nathalie had a small oval dough bowl, red plastic place mat and small non-stick round baking pan- supplies for biscuit making.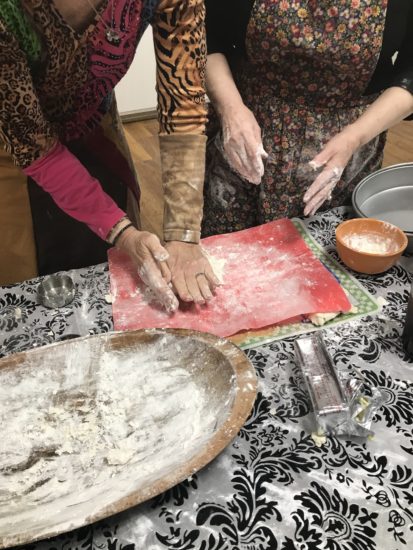 Nathalie told us she uses inexpensive plastic place mats for manipulating and folding the biscuit dough after transfer from wooden dough bowl. No rolling pin.
Ingredients
Ok, so here's what caught my eye!
It was a 2 ingredient biscuit recipe. 
2 cups of White Lily Self Rising Flour
1 cup of Heavy Cream
(You may use heavy whipping cream, but heavy cream is first choice)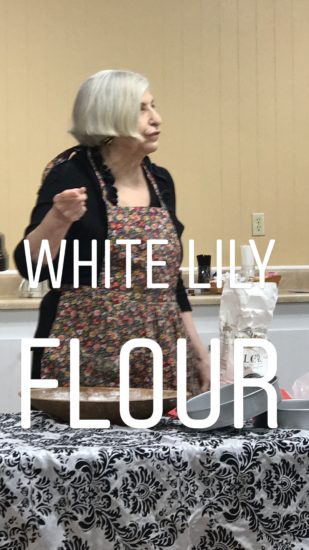 Technique
Put the flour and cream in the bowl, use your hands to gently combine. Once you have dough, plop it on to the plastic place mat (see the red one above!) then gently move the dough into a ball and pat (KEY WORD), pat it down. Don't roll it or beat it, just PAT it toward the center of the place mat.
Here's the trick for layers of flakiness–fold the place mat like a book. You'll be folding the dough. you can GENTLY pat the dough down again and do another fold, and another. This creates layers of flakiness! Now you are ready to cut them. I just bought a set of biscuit cutters but you may use a tuna can or a tomato juice can depending on how large you want the biscuits. I like biscuits very small like Robert's mother made–lady biscuits is what I call them! So dip your cutter in a bit of flour, go straight down in to the dough, then place in a non-stick round pan. Nathalie said if you want them dry separate them in the pan. If you prefer them a bit moist, put the biscuits closer together.
Practice To Perfection

The next trick is to "play" with making and baking the biscuits. Nathalie cooks them at 500 degrees for about 8 minutes in her Breville oven. I have the ingredients and everything I need to practice making the biscuits but no dough bowl yet! Nathalie encouraged us to spend some time playing around with making biscuits–especially if you have an eager tester!  We can tweak out the oven temp and time with test runs.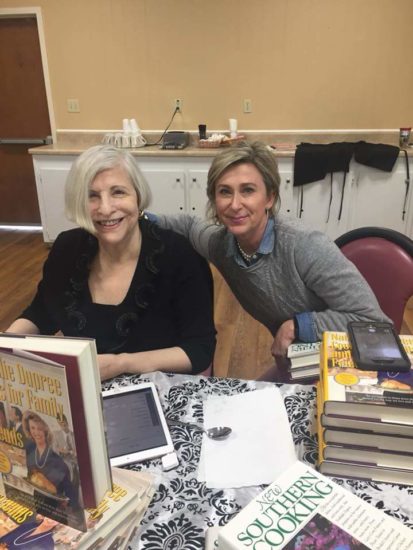 More About Nathalie Dupree
What a treat for me to meet Nathalie Dupree in person! I remember watching her on Public Television when I was little. She is a wonderful speaker, too. Check out her website here.
OH. You could also buy the book–Southern Biscuits by Nathalie Dupree and Cynthia Graubart  if you are or want to be a more serious biscuit maker.
There are no pictures of the biscuits because they passed them around and they did not last long!
See you.

 Next up. Dough Bowl Centerpieces!