Hey.
I've been posting a lot on Instagram these days and decided I needed to dust off this blog with a new concoction, a yummy, filling fruit bowl! But first, there is a new program out in cyber land called FASTer Way to Fat Loss, the brainchild of Amanda Tress. Although fasting is not a new concept, Amanda has created a business around intermittent fasting, carb cycling and counting macronutrients(macros) .
Health and nutrition have always been a top priority for me, so I am fascinated by the FASTer Way to Fat Loss (FWTFL) Program.  So fascinated, in fact, that I signed up for a round of 6 weeks. I am now finishing up my 3rd week and noticing good things already. I don't consider myself overweight, but since mama passed away in November my nutrition could use a little clean up and that is what is happening now. I'll share more about the program with you if you are interested.
What does that have to do with making a fruit bowl? A couple of days during each week on FWTFL require higher macros (protein, fat and carbs) so I've created a new go-to "sweet" with fruit and yogurt.  This concoction boosts the carbs in my day and tastes great! You may think it's odd to put avocado in with bananas and apples, but we do that in smoothies too and it is so yummy!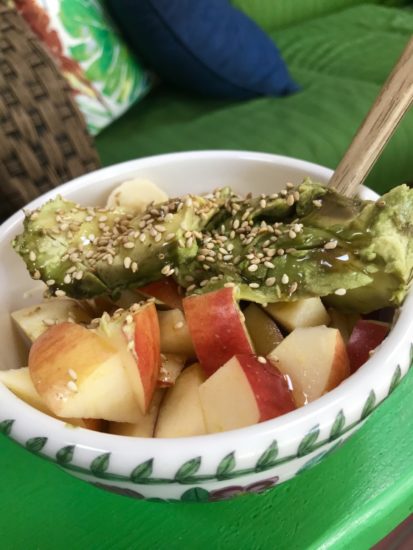 Avocado Berry Banana Bowl
1 carton Siggi's Skyr Strawberry/Rhubarb Yogurt (Publix)
1 medium banana sliced
1 apple chopped
1/2 avocado sliced
Toasted Sesame Seeds (to your liking)
Add everything to a bowl, sprinkle with sesame seeds and you have a yummy bowl of goodness!
This would make a nice snack for the kiddos too! Let me know what you think.
Enjoy!
Feel free to share this post.
ML
" Our bodies are our gardens to which our wills are gardeners. "
     William Shakespeare