My friend Kelly makes the best blueberry pound cake ever.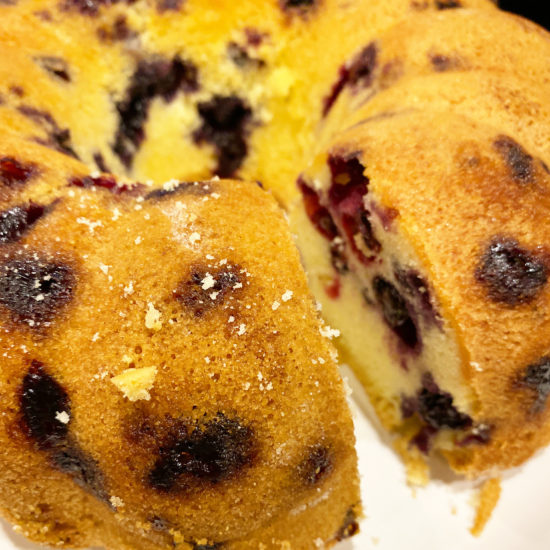 I made this cake for Robert's birthday and posted this picture on Facebook. Many of you asked for the recipe, so I decided to put it here. Blueberry season in Georgia is right around the corner, so this is perfect timing!
I've tried one other blueberry pound cake recipe and it was too sweet for me- this recipe calls for less sugar in the cake. The sugar crust on the outside of this cake makes it extra special! Add a little vanilla ice cream or not. Robert finishes it off for breakfast!
Enjoy.
Print
Blueberry Pound Cake – Kelly's Recipe
The best blueberry pound cake ever.
1 cup + 2 Tbsp butter, room temperature
2 1/4 cups sugar, divided
4 eggs, room temperature
1 tsp vanilla
3 cups all purpose flower, divided
1 tsp baking powder
1/2 tsp salt
2 cups fresh blueberries
Instructions
Grease 10″ tube pan (I use bundt pan) with 2 Tbs butter, sprinkle with 1/4 cup sugar- shake the pan around until sugar coats bottom and sides. Cream remaining butter, gradually adding 2 cups sugar. Add eggs one at a time, beat well after each. Add vanilla, mix well. Combine 2 3/4 cups flour, baking powder, and salt. Gradually add to batter. Dredge blueberries in 1/4 cup flour then fold into batter. Pour batter into pan and bake at 325 degrees for 1 hour and 10 minutes. Cool 10 minutes then remove from pan.
Notes
Don't forget the first step of greasing the pan with butter then sprinkling with sugar. This will make the crunchy bottom and sides of the cake!