Hey.
I know you want to get started with your new Instant Pot and new recipes. This post explains why I love the Instant Pot and easy ideas for meals this week.

 Instant Pot Love
Why Do I Love Thee Instant Pot?
It is fast. By the time I remember to put all the ingredients for a slow cooked meal into a crock pot, it is too late! Roasts, chicken and ribs can be cooked in minutes with your Instant Pot!
I like the developer's philosophy. I know he wants to make money, but Robert Wang  created this product to bring families back in the kitchen. He wants to cut down on fast food and take out.  I love that.
The IP eliminates the need for multiple pots and pans! You can saute, cook and keep food warm in the IP.
Why You are Here
Since August 2018, I've used the IP at least twice a week.
Here are some of my favorites since then. I am linking the recipes
so click those links and be prepared to drool!
Most blogs have printable recipes, hit the print and use that when you
are putting your grocery list together,
then again when you cook!
Pork Carnitas
All Recipes Pressure Cooker Carnitas
Set up a little carnita bar like this one from Half Baked Harvest with avocado chunks, cheese, sour cream– all the fixins.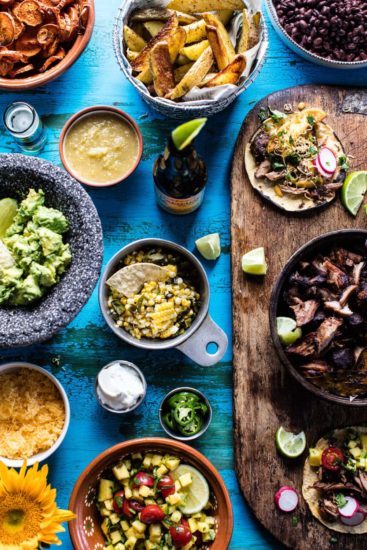 Orange Chicken
This one had Sam coming back for thirds.
Our niece, Emily, shared this one with me.
Orange Chicken from Sweet and Savory Meals
I serve this with brown rice (next on the list below!), chopped green onions, and sauteed bok choy or broccoli.
Get some sesame seeds to sprinkle over everything too!
Brown Rice
Sounds boring, but it is so easy and turns out tender when you let the IP do it.
We enjoy making and eating little bowls aka Buddha bowls for supper.
Brown rice can be the grain to start your Buddha bowl.
Add some of the pork from the first recipe here, zucchini, a sprinkle of pumpkin seeds and a
dollop of Sriracha aioli
and you've got a nice filling
meal for your peeps!
Yield: 6 cups rice
Easy Insta Brown Rice
Ingredients
2 cups uncooked brown rice
2 1/2 cups vegetable broth
3 scallions washed and chopped
Instructions
Add uncooked brown rice to the Instant Pot or other pressure cooker. Pour in the vegetable broth and stir to combine, add chopped scallions. Seal the lid of the Instant Pot and select 15 minutes on high pressure.
Allow the Instant Pot to release pressure naturally. Remove the lid to the Instant Pot and fluff the brown rice with a fork.
Serve the brown rice or transfer to an airtight container and store in the refrigerator.
Easy Bowl Building
Here is a blog post on the easy little Buddha bowls.
I love making and eating them because they are simple and use whole food.
We like adding a little green goddess dressing or Sriracha aioli on them just for an extra perk of flavor.
That's it!
Let me know what you are making in your new Instant Pot!
ML