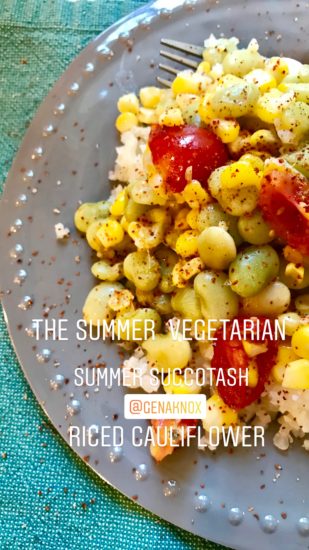 The Summer Vegetarian
Hi Peeps.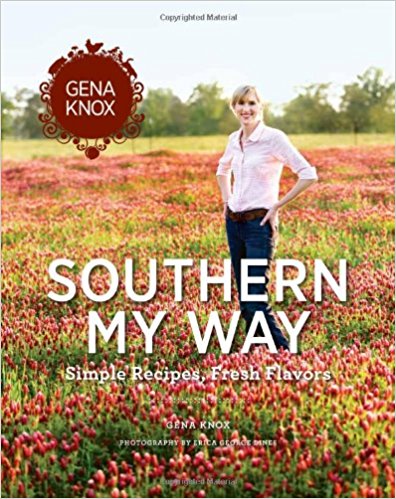 I hope you are having a good week. We wrapped up our family vacation on Hilton Head Island and are adjusting to the usual routine. It is HOT in Augusta which means lighter meals made with fresh vegetables–keeps the kitchen cool and the tummy light. Today it is Summer Succotash– thanks to Harriet for reminding me about this recipe!
A new addition to The Summer Vegetarian Collection is adapted from Gena Knox's book, Southern My Way: Simple Recipes, Fresh Flavors.  I added riced cauliflower to the dish to pump up the vegetable content and make it even more filling. Mama loved butterbeans and would inhale this succotash over white rice. I am not sure what she would think of riced cauliflower.
Summer Succotash
(adapted from Southern My Way, Gena Knox)
2 cups vegetable stock
2 cups fresh butterbeans
2 cups Silver Queen corn cut off the cob
1 cup of cherry tomatoes halved, can add more to your liking
2 Tablespoons white wine vinegar
1 Tablespoon Olive Oil
1/2 cup fresh basil leaves chopped
few sprigs of mint to taste or omit
Bring chicken stock to a boil, add the butterbeans, cook until tender. Remove butterbeans with slotted spoon, then add the corn cooking until crisp tender about 5 minutes. Drain corn and add to butterbeans in bowl.  Add tomatoes, vinegar, and olive oil to the bean/corn mixture and season to taste. Add the basil and mint before serving.
Meat Lovers
Try the Classic Meatloaf from Southern My Way if you have carnivores! It is delicious. You can buy Knox's book on Amazon.  The book has great summer recipes and colorful photos–I think you'll love it if you don't have it already.
Favorite Summer Vegetable Recipe
What's your favorite vegetable dish in summer? For those of you reading from milder climates, it gets really hot here in Augusta, Georgia. Hotter than Hell! It's just natural to eat less and lighter during the summer months so that is why I've started gathering easy summer recipes using local fresh vegetables.
Staying Healthy
This week will be full of interesting things like laundry, but I really, really want to give you the low down on my Heart Attack/Stroke Prevention Assessment RESULTS. The results are very eye opening, but sort of expected considering my family history. I am glad I did it and would recommend to everyone I know! I'll post on that soon. Could end up being a series of posts.
Let's visit on Instagram soon. I love seeing everyone on InstaStory too.
Have a Happy Day.
ML